Sage50 (Simply Accounting Software)
Sage50 (formerly known as Simply Accounting Software) is a robust business accounting software solution that empowers small to medium sized enterprises with the necessary tools to manage cash flow, track inventory levels, record sales and expenses, track customer and vendor invoices, and track revenues and expenses by projects.
Sage50 features include multiple user accessibility, multi-currency foreign exchange transaction support; departmental and project accounting allocation to track project financial health based on income and expenses. The user interface is very easy to understand, hence making the application a market leader for small to medium sized enterprises accounting and business management software needs.
Sage50 also features an integrated payroll module that empowers your small business with the ability to run payroll in-house along with the added benefit of control and ease of generating reports when required. The application records and supports a full audit trail that keeps comprehensive ledger of all journal entry records, corrections, deletions and amendments.
Sage50 integrated modules include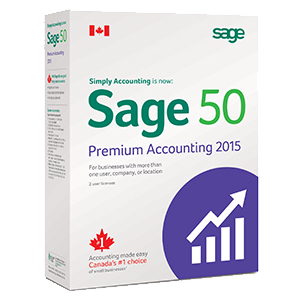 GENERAL LEDGER
PAYROLL
ACCOUNTS RECEIVABLE
ACCOUNTS PAYABLE
PROJECTS/DEPARTMENTS
MULTI CURRENCY FX
MULTIPLE USERS
FINANCIAL REPORTS
Intel Accounting and Business Advisors Inc. is a registered Sage Accountants Network member and is able to provide a discounted price for Sage50 software purchase. Call 778.370.2999 to speak with an experienced CPA technology consultant.